A can of disinfecting wipes (depending on the size) can cost anywhere from $4 to $13 dollars. Considering for this batch, I did not need new paper towels, or new cleaning supplies, this cost me the same as half a roll of paper towels that I got in bulk 12 for $12, so this ultimately cost me under a dollar.
If you buy all of your materials at once, you probably won't break even. However, in the long run, making your own wipes can save you money – and it's certainly worth excluding a monthly expense once in a while.
This makes sense for me for 2 reasons: 1) I have a phobia of not wiping down my counters before I leave a room, so I go through Clorox wipes EXTREMELY quickly and 2) I get the industrial size cleaning solutions that I keep in my closet and dilute in water as needed for new cleaning solution (saves me TONS of money on cleaning supplies – and it's all natural so I don't need to worry about the harshness in areas like my kitchen), so this costs me no money on a monthly basis, and in total, under $20.00 for the cleaning solution and towels every couple months.
Step 1) Dilute any solution you have, or grab your favorite liquid cleaning supply.
Step 2) Take a paper towel roll and make sure it fits in your container. You can use any air tight container, I'm using an old Clorox container.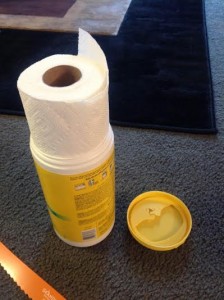 Step 2) Take a knife, and cut your roll so it is the same height as your container (Excess paper towels can be used in another air tight container (Like an old baby wipes box) After you cut it, place it back into your container, cut side down.
Step 3) Pour your favorite cleaning substance into the container. Just enough to lightly soak the paper towels.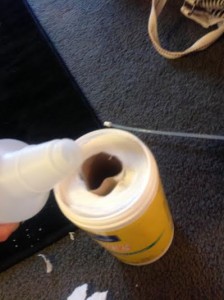 Step 4) Stick your hand as far into the container as you can, and begin pinching the cardboard pipe until you feel it can easily be removed. Slowly, with frequent pinching, ease out the cardboard from the roll.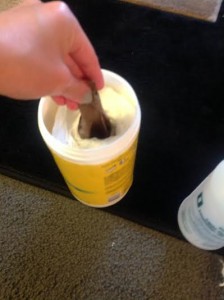 Step 5) After it is removed, reach down the center, and take an inside piece of paper towel, and bring it through the center, to the top of the container.
And voila! Pop on the lid and you have your own cleaning wipes! Like I said, this is a long term reward – and you will save even more money by buying industrial size cleaning supplies, storing them in your closet, and slowly diluting a cap full with water as needed.