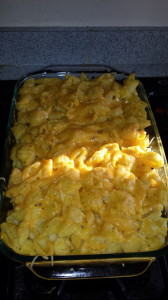 Ever crave Mac & Cheese but either don't want to eat the packaged version, or don't want to eat the home-made high calorie version? Yeah. Me too.
This baked Mac & Cheese is fast, easy, and best of all? Only about 200 calories. But even better? Made from whole ingredients, that you can eat completely guilt-free.
What You'll Need:
1 butternut or acorn squash
A small block of the cheese of your choice (I used cheddar)
1 apple
1/2 large onion, or 1 small onion
1-2 garlic cloves
Your Pasta of Choice (I used gluten free- macaroni; because my allergist recently informed me gluten could be making my allergies worse – say wha?!)
Salt, Pepper, other seasonings you like (Maybe some fresh herbs you have on hand, I like Thyme with this but didn't have any )
Steps:
Cut your squash in half lengthwise, and scoop out the seeds. Cook in a 400 degree oven for 45 min to 1 hour (I go an hour, makes it easier to peel!)
(Tip: If your squash is hard to cut in half – don't force it. No shame in cooking this whole first, and then cutting it and scooping out the seeds later. That's what I did here, and I show how after you cut it in half need to scoop the seeds)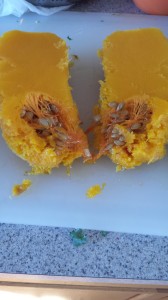 2. Start boiling salt water for the pasta (should taste like the ocean – yes that salty – its OK)
3. Chop your onion, and peel, core, and cube your apple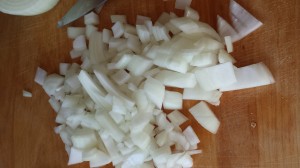 4. Sautee your onions until clear and brown in olive oil in a big soup pot for the sauce
5. Add in the apple, and squash. Pour in just enough water to cover the apple and squash, may be even about 3/4 of an inch below the top level of squash, with the apple on the bottom of the pot.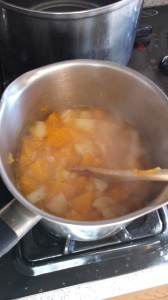 (Tip: Using home made broth instead of water makes it taste even better! But is totally optional!)
6. Cover the squash and apple, and pour your pasta into the boiling water. Let both go about 10 minutes on med-high heat.
7. When your pasta is done, drain and cover with a bit of olive oil and give it a stir. This will keep it from sticking together while we complete the sauce.
(Tip: You know your pasta is done because when you bite into it, you do not see any white – or – it simply tastes like pasta.)
8. When you're apple is fork tender, turn the squash and apple mixture off of the heat, and let it cool a couple minutes; then blend in a blender in portions so not to burn yourself. *Be careful with hot liquids in a blender – do not fill too high, do in portions, and always cover the lid with a towel as the pressure can cause it to explode***
9. Use a second pot to pour the blended portions into – put back on the burner on low
10. Once your sauce is back on the burner, grade half of your block of cheese into the sauce. You can add a bit more water if you would like it thinner (Tip; for a thick sauce, simply do not use as much water as the squash and apple cook). Add salt, pepper, thyme, cumin, whatever you like!
11. Add in your pasta (You may need a bigger pot than the one you used for the sauce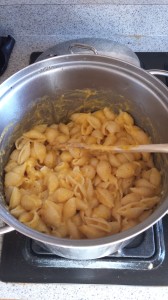 12. This is a good point to stop and taste it and adjust seasoning if necessary – or if you're me – you just make yourself a bowl of it and eat it right then and there AH SO GOOD
13. Pour the pasta into an oiled oven pan. Cover the top with the rest of your cheese – and pop in the oven for about 15 minutes or so. (If you want it to bake longer, cook your pasta for less time, and cover it, and keep in the oven longer, then for the last 10 min or so uncover it, and top it with the cheese)
14. Out of the oven and ooooh so good. You'll never know the difference – and I promise you'll never go back to those heavy calorie/highly processed versions!