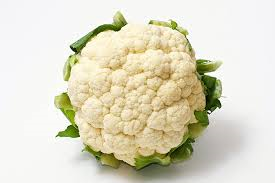 Need:
1 head of Cauliflower
3 cups of liquid (I mixed some beef broth with water)
seasoning
There are different ways you can do this to add flavor. But by 6pm on Sunday night, I'm just tired and want to have this cook itself while I watch a movie and do laundry in my massage slippers and fuzzy blanket.
So what do I do? Cauliflower soup, in the absolute; laziest way possible.
I cut the bottom greens off the head of cauliflower, and roughly chopped the head.
Then, dumped all the cauliflower into a sauce pan, and poured in some broth and water until the liquid covered the cauliflower.
I covered the pot, brought it to a boil, and then turned it down to a simmer for about 15 minutes. After the cauliflower was overly fork tender, I turned off the heat and took the pan off the burner for it too cool a bit before blending.
After a couple minutes, I ran that soup through the blender, put it back in the pot, and seasoned to taste.
Done.
Yes, if you would like more flavor there are several other things you can do. For one thing, you can marinade your cauliflower ahead of time. Or, you can roast the cauliflower for 15 min or so in a 350 degree oven covered in spices, and caramelize onions in a sauce pan before adding in the spice infused cauliflower.
These are steps I just didn't take – and it turned out just fine. You can also add some cheese to this soup, cream to thicken, or a cornstarch/water mixture. I didn't do this, and just was careful not to add too much liquid, because the less liquid you add the thicker it will be naturally.
I can now successfully say I have turned my fondue left overs into a complete weeks worth of meals!
#EatOn