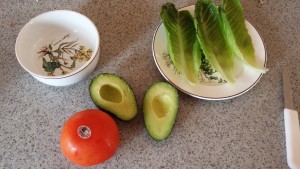 Call me crazy, but in the winter my body just craves summer foods. Not sure if it's the fact my condo building and work building are both boiler rooms in the winter (Was much appreciated in the polar vortex – but it's 40 degrees outside!!) or the fact that the air outside is so dry my body is craving those fresh water filled fruits and veggies. Either way, this cute lettuce wrap absolutely hits the spot.
My Lecture on Packaged Turkey:
I am home for the Christmas week here, so rummaging through my parents fridge was…well…interesting. I was able to find some beautiful romaine, a bruised tomato (My dad loves getting bruised because he can get a discount/get them from free), and some gorgeous avocados! I tried my hardest to find some fresh chicken or turkey to shred inside, but all I could find was packaged turkey. (Shake my head) but at least my parents tried and they did get low sodium. ehhh
I am not a fan of packaged turkey for two reasons.
1) Packaged turkey can contain up to 300mg sodium *scream* and other unnecessary chemicals that includes but are not limited to:
Modified Corn Starch
Sodium Phosphates
Carrageenan
Benzonate
Sodium Ascorbate
and Sodium Nitrate
2) It just takes like rubber like a lunch-able sort of thing.
ummmmm – no thank you. But I also just couldn't eat this lettuce wrap with just tomato and avocado. I just. Couldn't. So – I had to go for it. I HAD TO. Leave me alone. I was hungry. And it was either I go for the processed turkey or this weird looking "home made" mac and cheese that I think my parents actually ate for dinner and saved for a left over —– and that wasn't happening. (I would just like to add here that my parents are amazing cooks and taught me everything I know. We just, sometimes, disagree on certain ingredients. 😀 Love you Mom and Dad!!)
The Real Point of this Blog – The Wrap!
Packaging this wrap could not.be.easier.
1) Just rinse your romaine and rip off as many leafs as you would like a wrap for.
2) Mash your avocado in a bowl, add some lemon juice, salt, and pepper
3) Slice your tomato
4) Assemble.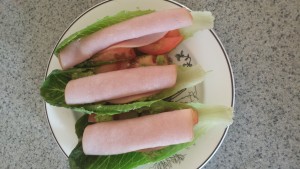 These are filling, delicious, and really hit the spot. The only thing I don't like? They are a little messy. Either that, or I am just a messy eater. So these are not the ideal lunch to eat at my desk at work.
Also, Am I the only one who doesn't eat the ends?